A New Treatment for Cellulite That Might Actually Work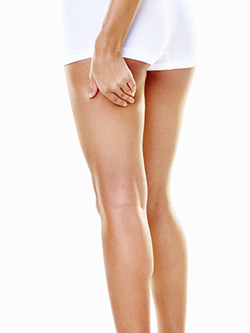 BY JOAN KRON, CONTRIBUTING EDITOR AT LARGE, NOVEMBER 19, 2014, 10:30:10 AM
At least 85 percent of women have some degree of cellulite, and though I don't have a study to prove it, I'm guessing that 100 percent of them despise it. Now, after a succession of massage therapies and creams that never really worked, there is a new, minimally invasive treatment called Cellfina that promises long-term smoothing of cellulite. "It will revolutionize the treatment of this condition," says Michael Kaminer, a Boston dermatologist and an associate clinical professor of dermatology at the Yale School of Medicine.
Cellfina is the first device cleared by the FDA for "long-term improvement of cellulite lasting at least one year." The approval was based on two safety studies and a clinical trial of 55 patients. According to Kaminer, who helped design the device but has no ongoing financial interest in it, there's reason to believe that the effects may last even longer. "We have patients whose results have lasted three years."
How does it work? Cellfina is based on a simple idea, that the dimpling can be flattened out by snipping the clusters of tissue called septae in the fat under the skin that connect skin to muscles (much like the threads on a Chesterfield sofa that hold the tufts in place). Until now, the attachments could be cut two ways: by going under the skin with a laser or with a surgical maneuver called subcision, in which the surgeon slides a scalpel under the skin and, using a fanning motion, cuts the attachments. Subcision is a tricky procedure. When performed improperly, it causes bleeding, bruising, pain, and scarring that may result in firmness that lasts for months.
Cellfina takes the guesswork out of subcision by automating the process. The device is the size of an iPhone and works mechanically—no laser, no heat, no sound or radio waves. Most patients have a total of 15 to 25 dimples on their thighs and buttocks, says Kaminer. First, each dimple is marked with a circle the size of a silver dollar. Next, the circular patch of skin is numbed with an automatic injection of lidocaine. Then the device grabs the skin with the aid of suction and slides a miniature blade about six millimeters below the skin to cut the attachment.
The blade is so tiny that there's no bleeding and minimal bruising, and it takes the doctor only about an hour to treat 25 dimples of cellulite. In a clinical study, the only postoperative pain medication required was Tylenol, and patients resumed activities the same day or the next. One treatment costs $2,500 to $5,000 depending on the number of dimples and the physician's geographical region.
A few offices will receive equipment in the coming weeks, but by spring, Cellfina will be available nationally.