Don't get CoolSculpting until you read this
Are you ready for my CoolSculpting results? CoolSculpting is a non-invasive fat removal procedure designed by two Harvard University scientists that can be used to sculpt and reshape your body. The procedures works by freezing your fat cells that your body then eliminates over the course of the next month.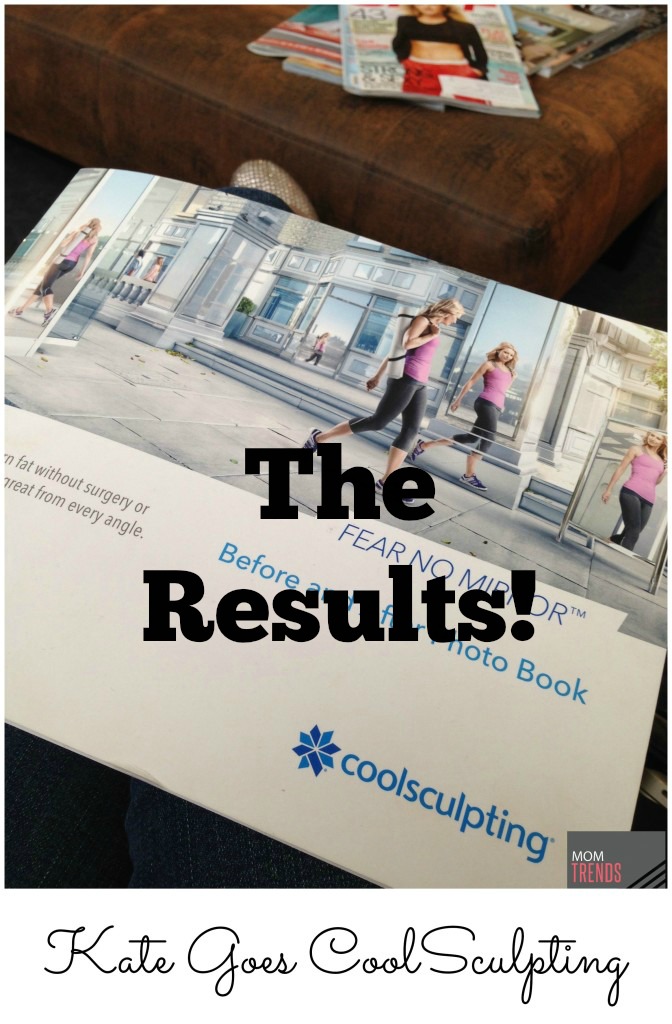 Back in July, I had my first CoolSculpting appointment. At that time, I was eager to get rid of my belly pooch from three pregnancies that no amount of working out or dieting had touched. You can read more about what CoolSculpting is, how it works, and what it feels like in my first post that I wrote while I was getting CoolSculpted.
Now, it's been eight weeks since my second CoolSculpting appointment which means my body has had time to get rid of all those frozen fat cells.
So, of course, the big question is – does CoolSculpting work? Drumroll please…….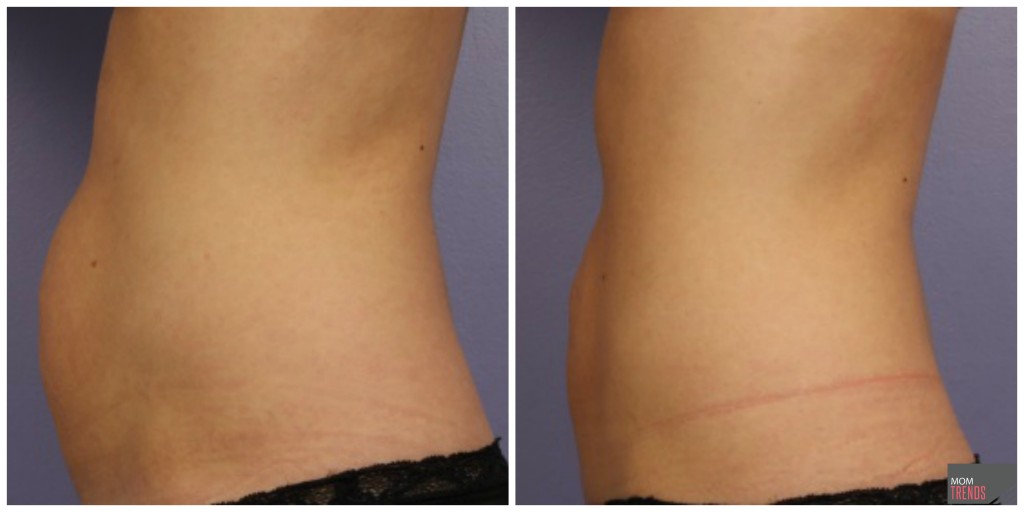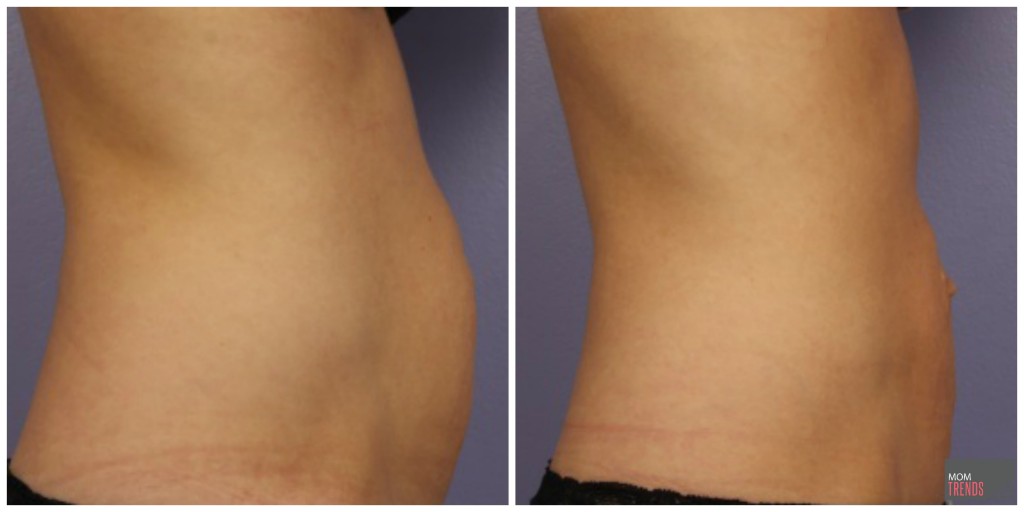 These are my official pictures taken at Marina Plastic Surgery before my first CoolSculpting appointment (left) and eight weeks after my second appointment (right). I didn't alter anything about my diet or exercise plan over this time. I lost about 2.5 lbs, but for me, the biggest change is in that pooch! I am left with some loose skin which I am looking into treating with a skin tightening laser treatment like Exilis Elite or Thermage. For me, the biggest improvement is that day to day, clothes no longer catch on my belly pooch.
I think the results are even more dramatic than what those pictures show, because, I'll be honest, when you first walk into an office and have to strip down to your skivvies and take 50 photos from every angle in front of a stranger, it's hard to let it all hang out. I can remember sucking it in a bit on those first round of before pictures. I also had my inner thighs done, and I noticed a difference there too. And no, I'm not just standing with my legs farther apart. You're standing on a raised board with numbers to ensure your before and after photos are taken in the same position.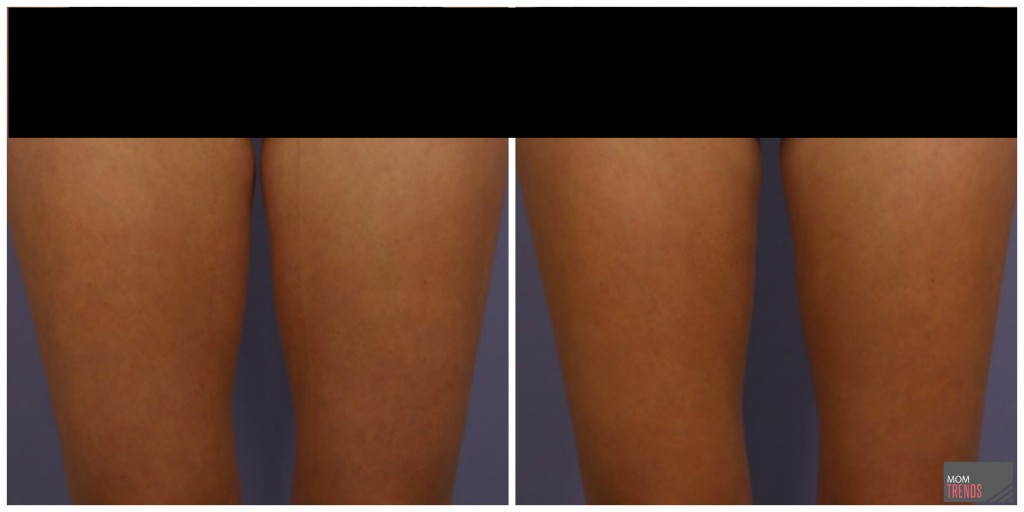 Overall, I am THRILLED with the results. I wasn't sure CoolSculpting would work but I can definitively say that it made a big difference for me. I loved that CoolSculpting required ZERO down time, ZERO recovery and left ZERO scars. While each treatment does take an hour which can add up if you getting multiple areas done, I loved that you can read, work, or relax during the treatment! As a mom, a tummy tuck was not only a huge financial consideration, but having 6-8 weeks of recovery seemed nearly impossible to do with three kids at home. CoolSculpting was a fabulous alternative for me. No, it did not get rid of my diastasis or give me perfect pre-baby abs – both of which a tummy tuck can indeed do. But for me, this is good enough. Do keep in mind, depending on how many treatments you need, CoolSculpting can still be expensive. I needed four treatments for my stomach – top left, top right, bottom left, bottom right – and received two rounds of treatments. But some people may only need one or two treatments for the abdomen depending on where your excess fat is stored.
If you're interested in CoolSculpting, you can find a local facility here, and if you're in Southern California, I highly recommend Rachael and the team at Marina Plastic Surgery who were incredibly knowledgeable, professional, and kind during my treatments.
By Kate Bayless Momtrends.com
Missed Part 1 of my adventure with the nitty gritty of how CoolSculpting works and feels? Read it here.