With Cosmetic Treatments, More Men Enlist in Battle of the Bulges
Several non-surgical body contouring treatments have seen an increase in male patients, doctors report. We look at some of the sculpting machines doctors are using.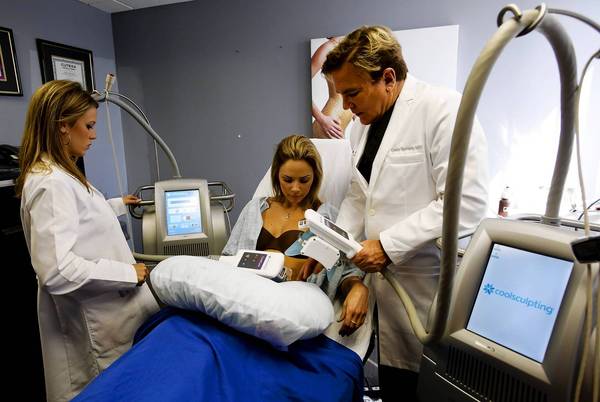 Dr. Grant Stevens and Laura Pietrzak demonstrate how Coolsculpting works on a client at the Marina Medspa at Marina Plastic Surgery in Marina del Rey. (Anne Cusack / Los Angeles Times)
A slew of nonsurgical body contouring treatments promising to zap inches on your lunch hour has taken off recently, ushering a flood of new patients - many of them men - into doctors' offices.
However not all of these treatments, touted on talk shows and marketed at medical spa happy hours, are created equal, physicians say, and the cost can run well into the thousands, rivaling or even surpassing liposuction but with less dramatic results.
"We are not talking about losing weight" with these treatments, says Grant Stevens, a Marina del Rey plastic surgeon whose practice does a booming business in body contouring. "This is about treating the bulges of fat that are resistant to diet and exercise."
Still, at least one treatment is consistently delivering measurable results, doctors say - from 1 to 3 inches per application - with few adverse effects and no downtime. Others are on the way to lure the two-thirds of Americans, Stevens says, who won't consider elective surgery.
These fat-zapping treatments have been a surprisingly big draw for men, who in 2012 accounted for a mere 9% of all cosmetic procedures, according to the American Society of Plastic Surgeons. Stevens estimates that 43% of his body-contouring patients are men looking to rid themselves of love handles and male breasts, or "moobs".
Body contouring treatments also are turning aesthetic neophytes into cosmetic converts.
According to a July article by Stevens in the Aesthetic Surgery Journal, 62% of the 528 patients he saw for the procedure from 2010 through 2012 had never undergone any other cosmetic procedure, not even a professional facial. Now 40% of these new customers have returned for other surgical procedures, lasers and fillers.
Here's a rundown of these no-downtime treatments and what doctors had to say about them.
CoolSculpting
Cost: $700 to $800 for each one-hour application. (Multiple applications may be needed.)
Plastic surgeons say this Food and Drug Administration-approved treatment has quickly become the "standard" in nonsurgical fat removal.
A vacuum-type head sucks in an area of fat from the abdomen or flanks and exposes the underlying fat to extremely cold temperatures for one hour while protecting the upper layer of skin.
This process, called cryolipolysis, destroys about 25% of the fat cells in the area, according to doctors who use it. These damaged cells are then flushed out of the body over the course of one to two months. CoolSculpting does not tighten loose skin.
Patients getting the procedure can sit or lie down comfortably during the treatment, with a bit of mild pain during the first few minutes of attaching the treatment head to an area. Once the area becomes numb, the pain subsides. When the 60-minute application is complete, the treated area will emerge from the apparatus looking like a frozen stick of butter, ready to be massaged, and eventually subsiding to look mildly swollen.
In addition to swelling, which can last for a couple of weeks, other adverse effects reported from the treatment include reddening of the skin from dilated capillaries, bruising and numbness as well as some cases of delayed-onset nerve pain. In some very rare cases - 60 of more than 500,000 treatments - the pain can be severe, says Irvine dermatologist Christopher Zachary, one of the first to use the machine. All of these adverse effects have been temporary, he says.
Of the 528 patients Stevens wrote about, three reported moderate nerve pain, and these cases resolved in four or fewer days, he noted in the article.
As with other body-contouring treatments, CoolSculpting is no quick fix. Michael, a Los Angeles-area attorney who did not want his last name used, likens the very gradual reduction of his treated abdomen and flanks to watching a child grow.
"You don't really notice a change day-to-day." But after two months, he was able to trade down to a more tailored slim-fit dress shirt. "I'm thrilled with it."
Still, not every customer is satisfied. Zachary wrote on his website in 2010 that "three out of 10 patients are unimpressed" with the results, a lower number than company literature would suggest. Today, he says that number is improving, especially as patients get the procedure done twice or more in the same area, with more massage after each treatment.
Zachary himself has begun doing two back-to-back one-hour treatments with an acoustic radial wave massage in between applications. This double-shot procedure, however, ups the price per area by 50%.
TruSculpt
$800 to $1,000 for each treatment. (Two treatments may be required.)
This machine uses radio frequency to heat fat cells, causing cell death, or apoptosis, with fat cells being flushed away over the course of one to three months, resulting in a reduction of the underlying fat layer.
Just how much fat it eliminates is debatable. Although the treatment's website shows an ultrasound image of one patient who lost more than 25% of the fat after two treatments, Kouros Azar, a plastic surgeon in Thousand Oaks, says in the 200 treatments he has performed, he has seen an average loss of 1 to 2 centimeters of fat, or less than an inch.
Azar likes the machine because it is versatile enough to treat fat pockets all over the body, including the arms, thighs, above the knees and under the chin.
"I have found it to fill a huge void in our practice for non-invasive body contouring," Azar says.
Zerona
Cost: $2,500 to $3,000 for a series of six sessions
Promising to liquefy fat that can then be flushed away by the body, this low-level laser treatment has plenty of skeptics.
"It 100% does not work," Stevens says. "We have never seen any fat reduction with this." Studies on the company website promise an average loss of 3.64 inches on waist, hips and thighs if you follow the treatment regimen, which includes drinking lots of water, cutting out alcohol and caffeine, eating a healthful diet and exercising for 30 minutes a day.
Stevens is not alone in rejecting this treatment. The company that holds the license to Zerona recently filed for Chapter 11 bankruptcy protection after Zerona laser users began returning the machines earlier than expected and it could not make royalty payments to the laser's manufacturer.
Vanquish
Cost: Estimated at $700 to $800 per treatment.
Another highly anticipated, pain-free method of fat removal is coming out later this year. It promises to zap fat without even touching your skin.
Called Vanquish, this FDA-approved machine by BTL Aesthetics hovers over your skin, heating and destroying fat cells (without disturbing the skin) in four 30-minute sessions spaced a week apart.
In a very small European clinical trial, patients lost an average of 5.68 centimeters, or 2.23 inches, around their midsection without significant side effects, save for a little redness and swelling that went away within an hour.
Stevens is now testing one of these machines. The photos, he says, look encouraging, but he doesn't have the results yet. "The jury is still out."
A word of caution
Despite the low degree of risk with these treatments, it's important to make sure the person administering a treatment has proper training, or you may receive less impressive results and more discomfort.
"Just because it's minimally invasive," says Scot Glasberg, a New York plastic surgeon, "you shouldn't go to a minimally trained doctor."
From LA Times