Marina Del Rey Plastic Surgeon Celebrates 25 Years of Practice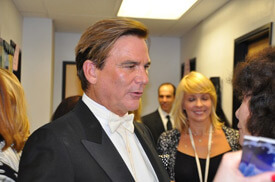 Dr. Grant Stevens mingles with patients, during the 25th anniversary party of Marina Del Rey-based Marina Plastic Surgery.
Marina Plastic Surgery celebrates 25 years of practice in Marina Del Rey with a party attended by hundreds of current and former patients.
A crowd of nearly 700 patients and guests - mostly women - packed the offices of Marina Plastic Surgery last week to celebrate 25 years of plastic surgery in Marina Del Rey.
Dr. Grant Stevens, founder of the plastic surgery practice, was joined Sept. 15 by special guest Patti Stanger, best known as television's "Millionaire Matchmaker."
The party had a "Girls Night Out" theme that featured pink and black feathers, disco balls and shirtless male Chippendale's greeters wearing black pants and red bow ties. The party also featured a makeup salon, a candy bar stacked with sweet treats, a Tarot card reader and free food and non-alcoholic drinks.
Stevens was decked out in a tuxedo and tails and was greeted warmly by patients he has been treating for five, 10 and even 25 years.
"My philosophy is that we are ladies and gentlemen caring for ladies and gentlemen," Stevens said during the party. "And I have tried to deliver the highest quality of aesthetic medicine and surgery as we possibly can."
Stevens said that he's writing a book that will be called "Patients for Life" and its main premise is that if plastic surgeons take care of patients as they would their family or themselves, they will continue to come back and seek consultation and continued cosmetic medical care.
Stevens in 1988 opened the first medical spa in Southern California, the Marina Medspa, to provide non-surgical cosmetic medicines and treatment for patients. The center has about two dozen lasers to non-surgically sculpt the body, tighten the skin, remove hair, eradicate blemishes and improve acne, Stevens said.
The non-surgical institute works hand-in-hand with the surgery side of the practice. A patient who comes in for several plastic surgery operations over 20 years, for example, can also maintain their looks with quarterly non-surgical treatments and monthly facials.
Demonstrations at the party included uses of Thermage, a non-surgical treatment to tighen and shape skin; CoolSculpting, a non-surgical fat removal technique that involves freezing fat cells, BOTOX and the newest lasers, such as Excel V and Exilis.
Stevens said he's embraced new technologies over the years, but only uses those that are effective and don't cost too much.
"There is not a technology here that hasn't been done on myself, my mother, my wife or my family," he said. "And, usually, I'm the first guinea pig to try anything."
Even though the economy has been in the tank, Stevens said his practice has been as busy as ever with the non-surgical Marina Medspa growing by 50 percent in the past two quarters, compared to the same time last year.
"It's crazy, but that's because patients are happy and they're getting the service they want," Stevens said. "I think were listening to our patients and we're providing them with services that are safe, effective and economic."
By Paul Chavez from Marina Del Rey Patch