MonstersandCritics.com Best Beauty Finds from August 2016
Monsters and Critics' Best Beauty Finds for August 2016 wrap up the summer after we tested all sorts of beauty products plus a skin-saving laser procedure that obliterates any precancerous skin cells and gets rid of rosacea redness and red spots too.
This month was also hair product heavy, and considering what a number summer fun does to your mane, it's good timing.
August 2016 Best Beauty Find winner is…
Halo laser by Sciton The new Halo laser treatment by Sciton is the absolute best minimally invasive ablative/non-ablative treatment for men and women we have seen.
One of our photographers was the test subject, as he braved the Halo — a combination of two types of lasers to create major results under the medical guidance from Dr. Grant Stevens, a respected and well-known plastic surgeon who is board certified.
He's the doctor people like Kris Jenner call upon when they need a face fix.
Our M&C test patient's issues were age, rosacea and sun damage, with worrisome driver's side brown spots on the high cheekbone.
Despite the "minimal downtime" press notes from the company Sciton that makes it, Halo laser is not a lightweight treatment and a lot depends on who is administering it and how "aggressive" they can be with the strength of the laser.
The photo below shows a one-week time lapse. You will see the underlying spots — red and brown — are lifting up. They will be gone in a week as even more pigmentation breaks loose in the dermis: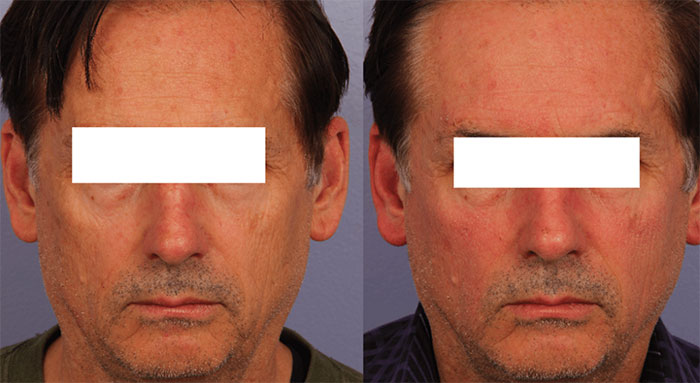 Dr. Stevens recommended the combination of the BBL intense pulsed light for rosacea, redness and any vessels on the face along with the Halo laser for pigment and skin texture, fine lines, pore size, and overall skin tone.
The BBL or IPL will stimulate collagen production in the skin for up to a year after applied, which makes it a perfect adjunct to the Halo laser.
The price range varies so you want optimal quantifiable results by someone highly trained like Dr. Stevens.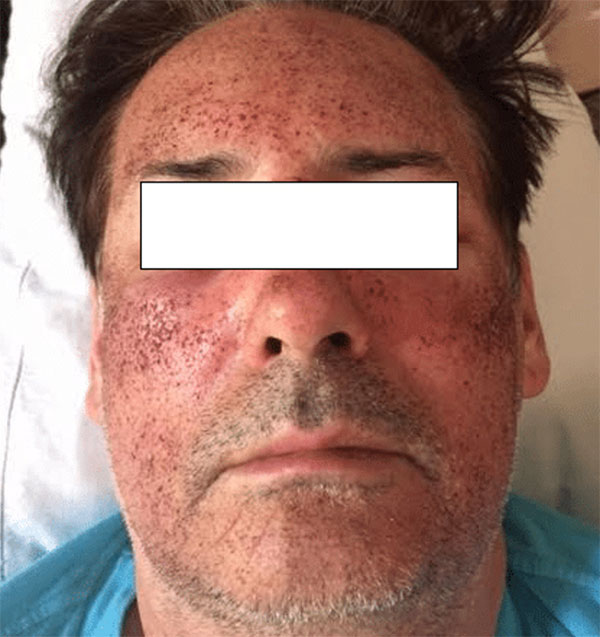 The day after will see swelling and the underlying skin coming to the surface
Expect four to six days of degrees of healing, beginning with initial intense swelling (about a day), peeling and then healing as the skin is reborn and dark brown spots, red spots and lines are blasted off the face.
Your result will look better three months from the procedure than two weeks. It is described as "the gift that keeps on giving" as it improves skin tone evenness.
If you have any concerns about looking younger in the job market, or you're worried about any dark brown spots turning cancerous, do this.
Along with upkeep in the skincare department, it will save you many thousands on surgery.
Full article originally posted on MonstersandCritics.com by April Neale.