Mother's Day Health & Beauty Gifts 2015 - Health and Beauty Gift Guide Roundup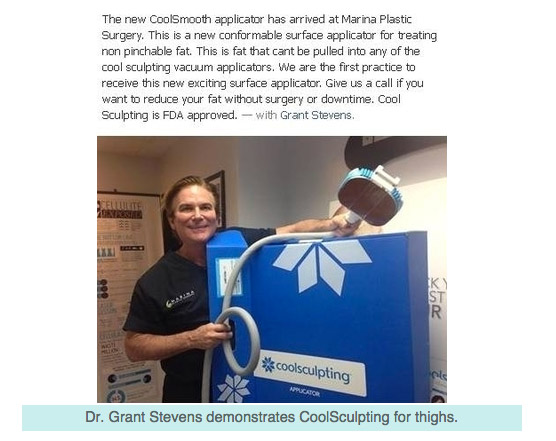 Freeze Your Fat Away With CoolSculpting!
Description: Marina Plastic Surgery is the largest CoolSculpting® practice in the world with 17 machines. That speaks to the safety and efficacy of this exciting nonsurgical body sculpting experience. It's perfect for men and women of all ages. The CoolSculpting procedure was developed by Harvard scientists and is based on the science of Cryolipolysis®, a process demonstrating that when fat cells are exposed to extreme cold, they die and are eliminated naturally from the body. Fat cells are gone for good, and patients can expect long-lasting results. Most patients can start to see results as soon as three weeks following treatment, with the most dramatic results occurring over a period of one to three months. Additional treatments in the same or multiple areas may enhance the desired aesthetic effect, so it is good to plan ahead to look great for the wedding. CoolSculpting involves no anesthesia, needles, surgery or downtime. A non-invasive applicator delivers precisely controlled cooling to the treatment area – thighs, stomach or flanks - to target underlying fat, leaving surface skin tissue unaffected. For more information, visit www.freezethefat.com; like Marina Plastic Surgery on Facebook; and follow on Twitter @DrGrantStevens.
Price: $1,000.00 to $3,000.00
Read the entire guide by clicking here.