Turn Back The Clock With These 2 Skin Tightening Facelift Alternatives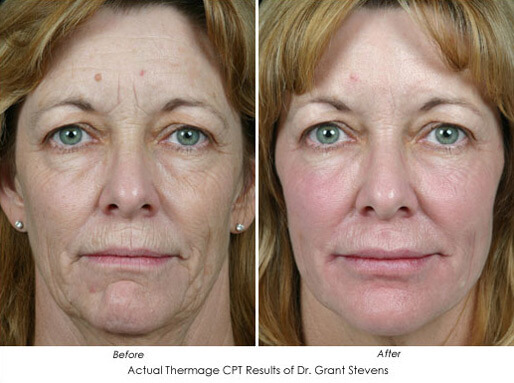 New technology such as the Thermage CPT and Exilis may offer facelift alternatives that are completely non-surgical while delivering dramatic skin tightening results.
The current trend of patients actively seeking minimally invasive or non-surgical aesthetic options will only continue to grow as technology offers us more options to not go under the knife. One category that has excelled with no-surgical options is facial rejuvenation. Albeit results may not be as dramatic as a facelift, there are many new skin tightening devices offer great facial rejuvenation, leaving you looking younger with tighter skin.
Recently discussed on The Doctors, celebrity smooth skin can be achieved in a myriad of ways. Skin flaws can be addressed by devices such as the Thermage CPT and Exilis, which are completely non-surgical and utilize radio frequency to tighten and lift skin on the face. As seen on The View, Kathy Lee & Hoda on the The Today Show, and Good Morning America, non-surgical facial rejuvenation has captured media attention by giving patients more options to surgery or postponing surgery, which have inherent risks and complications due to its nature.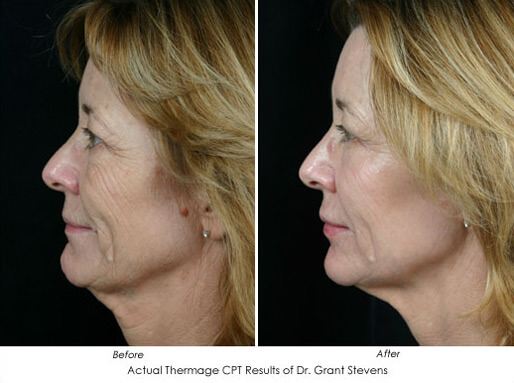 Thermage, a skin tightening device that has been available for over a decade, uses radio frequency energy to strategically heat the collagen in skin. Responding to the manufactured heat, lax skin tightens, wrinkles may be softened and in some cases lifting may occur. However, previous iterations of the device made the procedure uncomfortable to the the point of painful. "The first generation Thermage hurt and the procedure was very slow," states Marina Del Rey board certified plastic surgeon Dr. Grant Stevens, "However, the newest version, the Thermage CPT does not hurt because it uses Comfort Pulse Technology, a type of vibration to increase patient comfort. Heat is also distributed over a wider area so there isn't focal point tenderness and heat buildup in one spot."
Dr. Stevens of Marina Plastic Surgery, who himself has undergone the range of Thermage versions can attest to the lack of pain with the Thermage CPT. The procedure may be performed without anesthesia or numbing cream and patients have been quite pleased with their results. "The new Thermage delivers up to 5 times more lifting ability without the pain and our patients are extremely happy," says Dr. Stevens. 1-2 treatments may be necessary, depending on the severity of the loose skin and results may last up to 2 years.
A new device to hit the aesthetic market, Exilis, also uses radio frequency energy to address skin laxity. Dr. Stevens says, "The unique thing about Exilis is it uses a mono polar radio frequency that allows the radio waves to go deeper and exert more energy." Exilis uses a dual pulse to deliver controlled energy to promote collagen remodeling and skin tightening. A cooling system on the handpiece counteracts heat while Energy Flow Control (EFC) technology controls heat delivery, mitigating potential of burns and fluctuations in energy strength.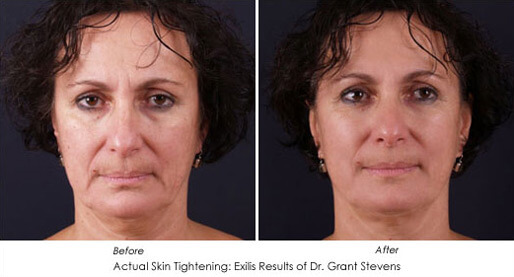 "The good news is the Exilis doesn't hurt at all," describes Dr. Stevens, "It gets a little warm but most patients find it quite pleasant as long as the the hand piece is being moved in the proper fashion around the face, the neck and the jowls and the forehead. The increase in warmth feels like a massage and the procedure is over in about 20 minutes." A series of treatments are necessary to get the best results. Dr. Stevens recommends 4-5 treatments, spaced a week to 10 days apart for optimal results that may last up to 2 years.
According to Dr. Stevens, there are many different types of patients that seek non-surgical facial rejuvenation. "I have patients in their 30 and 40's who come in to inquire about lifting procedures and I often suggest that it's a better use of their time and their money and of the risk if you will, to have non-surgical lifting procedures," he says, "Another group of patients that find non surgical lifting to be effective is patients who have previously undergone a face lift. These patients may have had a face lift 5-7 years ago and, they're starting to see some early sagging of the neck and in the jowls." To postpone the time and expense of another face lift, Dr. Stevens typically recommends a non-invasive procedure such as the Thermage or Exilis.
Dr. Stevens does stress that while Thermage CPT and Exilis may yield great results, they will not be the same as surgical results. "It's important to point out that neither one of them, however, is quite as good as a face lift. If a patient in is their 50s or 60s and is experiencing heavy skin laxity in their face, neck and jowls and they've never had a face lift, I will frequently recommend a surgical face lifting procedure."
We can expect that as technology continues to improve, more non-surgical options such as Thermage CPT and Exilis will become available. As Dr. Stevens pointed out, these results may not take the place of surgery at this point but who knows what the future brings?
From American Health & Beauty