Venus Legacy - The Latest Skin Tightening, Fat Reducing 4D Technology for Legs, Face and Body
From LAsThePlace.com
The Venus Legacy treatments are not only the latest in non-invasive, medical aesthetics, they are also amazingly effective in achieving an optimal natural and youthful result for skin tightening and fat loss. No invasive surgery needed. Venus Legacy requires no down-time.
Youth and beauty are sought after by people worldwide. Being born with good genes or adhering to a program of diet and exercise don't always do the trick of staving off time and inches. Venus Legacy is an exciting option: a non-invasive, pain-free solution for treating cellulite and wrinkles, contouring the body, and toning face, neck and body for a sculpted, toned and natural look. The Venus Legacy treatments are not only the latest in modern technology, but they are also hassle-free.
Recently, Venus Concepts hosted a media event at the SLS Hotel in Beverly Hills, featuring Dr. Grant Stevens. Media and influencers enjoyed three Venus-inspired bars; a cocktail / food bar, a beauty touch-up bar and a media bar – and the pièce de résistance was that we were able to undergo a complimentary Venus Legacy treatments. What better way to write about it than to experience it and note the great results immediately afterwards.
Venus Legacy combines two of the most successful treatments into one very effective treatment. The treatment consists of an exclusive combination of magnetic pulses and radio frequency. They have merged the two and created a painless, risk-free procedure that works. The treatments are so comfortable, that, in fact, you may fall asleep because of the soothing, warming feeling.
Patients have been ecstatic with the difference in their appearance. Appointments take a mere 20 to 30 minutes, and are easy to squeeze into your day, since you're able to return to daily activity immediately after a Venus Legacy Session – all without any inconvenient down time from your schedule.
This is an all-in-one procedure used to tighten skin, improve elasticity, trim circumference, reduce fat and cellulite, and alleviate wrinkles for both men and women.
With two different size wands, Venus Legacy can be applied to all skin types and body parts, making this procedure ideal for face, arms, torso, thighs, buttocks, and the often delicate neck area.
Patients can expect immediate results after one session and permanent results can be acquired in as little as two treatments. A patient can expect to achieve excellent results in the hands of an experienced and skilled plastic surgeon or dermatologist.
Grant Stevens, M.D.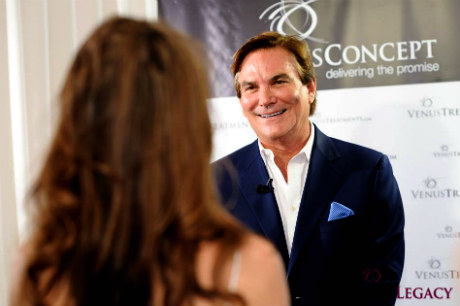 Dr. Grant Stevens has been an advocate and has been performing Venus Freeze and now Venus Legacy. He is a board-certified Los Angeles Plastic surgeon with an emphasis in cosmetic plastic surgery and has been named one of America's Best Physician's in "The Guide to Top Doctors." Dr. Stevens is a major proponent of the Venus Legacy Treatment system and employs it in the use of his own busy cosmetic surgery practice. (www.MarinaPlasticSurgery.com)
He has a long line of education and training where he graduated with honors from Washington University Medical School in St. Louis. Dr. Stevens is a Board Certified Diplomat of The American Board of Plastic Surgery and is on the faculty at both the prestitious UCLA and USC Medical Centers.
If Dr. Stevens seems familiar to you, it may be his numerous television appearances which have included CNN, Discovery, MSNBC, 24 Hours, Extra and Hard Copy to name but a few. Dr. Stevens has established himself as a highly skilled and knowledgeable authority in the world of plastic surgery and is a benefit to all his patient's seeking him out for their cosmetic surgery needs.
The Science Behind Venus Legacy
Venus Legacy is able to achieve such stunning results by channeling the power of magnetic pulses and garnering it with the valuable properties of multipolar radio-frequency. These magnetic pulses create increased blood flow and cellular nutrient to slow down the natural aging process. All the while, the RF energy prompts regrowth of impaired collagen – the foundation and proteins giving you the rejuvenated elasticity and freshness of your youth. Venus Legacy distributes this dynamic double dose through a special device featuring hand held applicators with several multipolar electrodes. A larger version of this device may also be used for body contouring and larger expanses of skin, while a smaller unit targets the face, the neck, fine lines, and more limited areas, depending on the patient's goals.
The beauty of this state-of-the-art technology is that not only is it 100% safe and pain-free. There have been no known instances of burns or bruises reported with this procedure.
Supporting Research
Clinical studies of the Venus Legacy System have been the subject of numerous clinical trials and studies by both trained physicians and researchers with impressive and consistent results. A Canadian study including 15 patients, three groups of subjects were treated for eight weeks: one group for skin tightening and wrinkle rejuvenation around the neck and face; one for circumference reduction in the abdomen and hips; and the remaining subject for cellulite reduction. In the first group, all patients showed steady to a significant decrease in wrinkles. The second party revealed an average shrinkage of 3.1 cm in the abdomen and hip area, and all subjects posted a decrease in circumference. For the third segment, 75 percent of the participants finished up with apparent and satisfactory improvements in appearance and reduction of their cellulite. Over all, treatments went well with no reports of notable pain and without instances of major complications.
When the Weil Cornell Medical College conducted their study of Venus Legacy they acquired 31 patients who were specifically treated to to reduce facial wrinkles. During an 8 week, 10 treatment study which included follow-up evaluations at both 1 and 3 month intervals following the conclusion of the treatments. Impressively at the end of the study , 96.7% of study subjects showed an improvement in the appearance of their wrinkles. They were also able to report no adverse side effects, burns, skin abnormalities or scarring. No patients reported experiencing any pain and all subjects were satisfied with their results.
Venus Legacy is approved by the FDA and licensed by Health Canada. legacy
True Success Stories
There is no higher praise for a procedure than when it comes from other physicians and aestheticians who all speak with entusiasm of the Venus Legacy Procedure.
For instance, Dr. Roby Hayes of Portland, Oregon says, "Venus Legacy is hot in our practice. One system for non-surgical fat reduction, cellulite reduction, and facial skin tightening. Our patient's love it!"
Popular San Diego/La Jolla-area physican Dr. Tess Mauricio can't say enough when it comes to patient's expectations: "The single biggest thing about Venus Legacy is that patients are seeing results without experiencing any pain. Patients are not worried to do the procedures, they actually look forward to it, and they are pleasantly surprised that something as simple and easy actually works. It has been a very easy sell for us as a clinic."
Aesthetician Wendy Christman, in Puyallup, Washington raves over all the Venus Legacy features: "Venus Legacy is the complete package! Non-surgical fat-reduction, cellulite reduction, and skin tightening in one complete system. Painless and exciting results. Our clients love seeing the results."
No Pain, No Gain? Naw!
When it comes to Venus Legacy the old adage "no pain, no gain" is simply no longer true. This painless, non-invasive, non-surgical system for body contouring, and wrinkle reduction, cellulite treatment, and so much more has the approval of satisfied customers and trained medical professionals alike. If you've hesitated in the past to try similar procedures put your fears and reservations to rest. With this state-of-the-art technology there is no more discomfort or downtime. The revolutionary Venus Legacy procedure is restoring beautiful, youthful skin today, and giving you the improved appearance you've been looking.