New Laser Aims to Zap Cellulite at the Source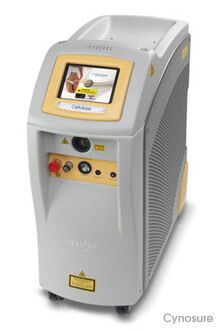 Bathing-suit season is here and with it, anxiety over cellulite. A new laser device that burrows under the skin is getting praise from some doctors who say it gives more dramatic and longer-lasting results than previous treatments, but others caution that more research is needed. The results are nothing short of remarkable.
Cellulite is a dimpled, uneven appearance of skin caused by fat underneath. It affects some 85% of women and about 5% of men. Until recently, the main treatments to battle cellulite have been external treatments such as creams and radio-frequency and massage devices. The creams are largely ineffective and the devices have a modest effect that typically lasts about six months, doctors say.
Aches & Claims looks at a new laser that burrows under the skin to treat cellulite. Cellulaze cuts fibers under the skin believed to be part of a major cause of the ugly dimpling phenonenom that affects 85% of women. Leslie Yazel has details on Lunch Break.
A therapy called Cellulaze, which uses a laser machine sold by Cynosure Inc. in Westford, Mass., hit the U.S. market in February. Some doctors say the results are impressive. "The results are nothing short of remarkable," says Los Angeles plastic surgeon Grant Stevens, a clinical professor of surgery at the University of Southern California's Keck School of Medicine in Los Angeles. Dr. Stevens, who isn't affiliated with Cynosure, said he and another doctor in his practice together have treated about 40 patients with Cellulaze.
Based on the published scientific data, Cellulaze is "promising," says Mathew M. Avram, director of the Dermatology Laser & Cosmetic Center at Massachusetts General Hospital in Boston. But "we need more clinical experience before we can make any definitive statements as to the efficacy of the device."
Cellulaze is different from earlier treatments in that it tackles the root causes of cellulite, including thinning skin and connective fibers called septae that are believed to create tension by pulling down the skin, contributing to an uneven appearance, says Gordon H. Sasaki, a clinical professor of plastic surgery at Loma Linda University Medical University Center in Loma Linda, Calif. Dr. Sasaki is a paid consultant to Cynosure.
How Cellulaze Works:
Tiny incisions are made so a cannula, or tube, can be inserted into the skin.
Local anesthetic is inserted through the cannula.
Laser light through the cannula cuts septae which scientists say help cause cellulite dimples. The underside of the skin is heated and some small amounts of fat are melted.
Bruises and tiny scars result, but fade with time.
Compression garments recommended to prevent fluid buildup.
Cellulaze is done by plastic surgeons in their offices under local anesthetic. It typically costs $5,000 to $7,000 for a bilateral area, such as the thighs, and another $2,500 or more for each additional area. One or more tiny incisions are made so a narrow tube called a cannula can be inserted into the skin. Laser light, delivered through the cannula, cuts the septae and melts small amounts of fat, Dr. Sasaki says. It heats the underside of the skin, which stimulates collagen production and makes skin thicker and more elastic, he adds.
Cellulaze leaves tiny scars about two millimeters long which fade with time, surgeons say. Typically, compression garments are recommended for at least two or three weeks to prevent fluid buildup. And there will be bruises, so patients typically need to wait three to six weeks before venturing out in a bathing suit, surgeons say.
The procedure can cause a buildup of fluid in the area that has been treated, which can last for months and needs to be drained regularly by a doctor.
In a written statement, Cynosure says "a few" patients in early trials had the buildups, called seromas, adding that they need to be drained to prevent infections and other complications. The company says it has since lowered the recommended laser dosage and it isn't aware of any seromas since the device hit the U.S. market.
According to a company-funded study of 10 women published last year in Aesthetic Surgery Journal, Cellulaze resulted in skin that was 25% thicker after a year. Cellulite reduction was "good" to "excellent" as graded by physicians.
Dr. Sasaki, in data obtained as part of a company-financed trial that has yet to be published, says 80% of 25 patients he treated are still enjoying "substantial improvement" two years after the surgery.
Lawrence Bass, director of the minimally invasive plastic-surgery program at New York University Langone Medical Center in New York, says the procedure appears to reduce the depth of cellulite dimples. A person with less-pronounced dimples is "most likely to get a home run" out of the procedure, says Dr. Bass, who has attended scientific presentations of the data but hasn't performed the procedure. But if you have really deep ones, he adds, "it might not be enough to make the lifestyle change you want to make, such as wearing shorts in the summertime."
If a deep dimple is still visible, fat can be injected with a syringe later to even it out, Dr. Sasaki says.
Another new laser treatment both for cellulite and body contouring is i-Lipo, i-Lipo, from Chromogenex Technologies Ltd., South Wales, England. The laser, which hit the U.S. market in December, is noninvasive and involves pads placed externally on the skin. I-Lipo provokes a chemical reaction that breaks down fat into its components, says company clinical manager Donna Freeman. After the treatment, a cardiovascular workout of 30 to 40 minutes is recommended to burn off the components.
The "Ultra" model of the device comes with a vacuum-massage device aimed at smoothing cellulite, but the effects on cellulite haven't yet been tested in a clinical trial, the company says. A 34-patient study, unpublished, found eight 20-minute sessions with the device reduced midsection size by 1.8 inches, measured by a tape measure, compared with only a third of an inch for a sham therapy, which looked the same to patients.
Dr. Bass says he is "skeptical" because measuring-tape data has a large margin of error. Chromogenex says the measurements used scientifically accepted standards.