Biggest Loser Plastic Surgery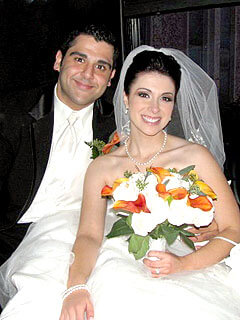 s
By Cynthia Wang
People Magazine
October 25, 2009
Neil Tejwani, 26, the 6'2" chemical engineer-turned-fitness consultant who weighed as much as 460 lbs. before he competed on the fourth season of NBC's The Biggest Loser in 2007, had three things to celebrate this Saturday — his wedding to longtime love Stefanie Nigro, his two years of maintaining more than 200 lbs. of weight loss, and the fine figure he cut in his Wilke-Rodriguez tuxedo after skin removal surgery this spring shed another 15 lbs. from his frame.
"This was by far the best day of my life," Tejwani tells PEOPLE after sharing his wedding day with 175 friends and family in West Babylon, N.Y., including trainer Bob Harper and past Biggest Loser winners Erik Chopin and Bill Germanakos among others from the show. "Everyone seemed to really have a great time, and I'm sure I probably burned a few thousand calories by dancing up a storm!"
Even though guests didn't have to worry about a post-vow weigh-in, Tejwani says he and Nigro had their health in mind when planning a menu. "We both eat relatively healthy," he says, "but we also have friends who eat whatever they want and not a gain a pound, and a few guests that are vegetarians. So we had a very diverse menu of appetizers from salad to seafood, and seven entrée choices ranging from fish to vegetables to Peking duck, and lean cuts of beef. We did however make sure to bank up a few extra calories for our big day, so we don't feel too guilty indulging a bit or enjoying the open bar!"
Tejwani and Nigro were college sweethearts who got engaged last year. She inspired him to go on The Biggest Loser for health reasons. "She would have nightmares of this image of us settling down with a house, a dog in the backyard and children and the next thing you know, bam, just like that," Tejwani says. "But when I got off the scale the last time at the Biggest Loser, soon after that, I popped the question."
Shedding His Skin For the Big Day
Even though Tejwani has kept up the discipline he learned during his time on The Biggest Loser with solid exercise five days a week, eliminating white bread from his diet and seriously reducing his soda intake, Tejwani wanted to look his tuxedo best for his wedding. This spring, he sought out the services of Marina Plastic Surgery.
On May 21, Tejwani underwent a six-hour, two-part procedure where he had skin removed from his lower and upper body. It was a foot-and-a-half of skin stretched out, and the amount of skin and fatty and fibrous tissue that was attached to that skin was about 15 pounds. It was a tremendous amount of tissue, but the procedure transformed his shape and he appears a lot more youthful.
For a guy who used to wear a size 64 sports coat and jeans with a 54-inch waist, Tejwani now fits comfortably in a size 44 jacket and 34- to 36-inch pants. He is now at a healthy 230 lbs.
"I think the icing on top of the cake, no pun intended of course, is having my excess skin removed," Tejwani says. "I have won my life back by losing all this weight, but to finally have the image that goes with the health benefits in time for the most special day of my life, is an absolute blessing. None of this could have been possible without the help of Marina Plastic Surgery. I never thought I was the type of guy to get cosmetic surgery. But I feel and look better now than I ever have, and Marina Plastic Surgery made my new look possible in time for this very special occasion." - Cynthia Wang