Will Your Health Insurer Pay for Plastic Surgery?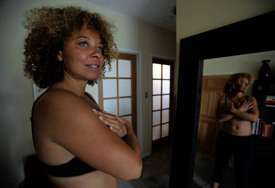 Americans love to look good, but insurers are often reluctant to pay the bills to help us look better.
Cameo Wichinsky of Santa Monica says she'll have to shell out nearly $9,000 for breast reduction surgery, even though she has health insurance. (Francine Orr, Los Angeles Times / July 29, 2013)
Last year we spent nearly $11 billion on cosmetic procedures, according to the American Society for Aesthetic Plastic Surgery. Of the more than 10 million procedures performed, the most requested was breast augmentation.
But Cameo Wichinsky, a 42-year-old investment fund manager living in Santa Monica, wants to take her figure in the opposite direction.
Having long lived with the discomfort of breasts large enough to cause shoulder and neck pain and to limit her level of physical activity, she's ready to go under the knife to reduce her breast size and, she hopes, improve her quality of life.
"I'm at the stage of my life when I'm ready to be active and be at my highest level. These things get in the way," Wichinsky said.
Despite the fact that she has health insurance, she says she'll have to shell out the nearly $9,000 for breast reduction surgery, which she has scheduled for November. Her insurer won't cover the procedure.
"Insurance is a huge hassle," Wichinsky said.
There was a time when health insurers more readily paid for breast reductions, said Dr. Luis Macias, a plastic surgeon with Marina Plastic Surgery in Marina del Rey.
"We tend to think of breast reduction as reconstructive surgery and not cosmetic, even though it has that cosmetic aspect to it," she said.
Plastic surgery is expensive. It's important to know ahead of time what insurers will pay for.
The line between the desire for improved physical appearance and medical need can be fuzzy in the world of health insurance. Although few people expect to have their health plan pay for their tummy tucks or face lifts, there are procedures that legitimately warrant coverage.
The bottom line when it comes to an insurer's decision to pay for a procedure is typically whether it's considered medically necessary, experts say.
"Generally, if a procedure is necessary to repair or preserve the healthy functioning of the body, it's likely to be medically necessary," said Carrie McLean, senior manager of customer care with online insurance broker eHealthInsurance.com.
"If the procedure is typically considered standard practice for any given diagnosis, that may also meet the criterion for medically necessary," she said.
Exactly where that line is drawn depends on the individual and his or her circumstances, not the procedure itself, said Patrick Johnston, president of the California Assn. of Health Plans, which represents 40 health plans insuring more than 21 million Californians.
For example, a middle-aged man interested in a tummy tuck to restore the six-pack of his youth isn't likely to get much sympathy from his insurer, he said, but it's a different story for someone who lost 150 pounds after bariatric surgery and is left with excess skin.
"This is a recognized standard of treatment for morbidly obese individuals," Johnston said.
In the same way, he said, a nose job to correct a deviated septum or surgery to lift drooping eyelids that impair vision are other common surgeries likely to be covered by a health plan.
Consumers have a variety of legal protections that guarantee access to certain cosmetic procedures.
Women who have undergone a mastectomy after a diagnosis of cancer, for example, are guaranteed coverage for reconstructive surgery.
"Both federal and state laws guarantee a woman who has had a mastectomy as a result of breast cancer coverage for breast reconstruction," Johnston said.
California law also requires insurers to cover the repair of a child's cleft palate, which includes any medically necessary dental or orthodontic services that are an integral part of reconstructive surgery.
If you're in the market for a cosmetic procedure, here are some important reminders.
• Check with your insurer in advance. In most cases you're likely to need your insurer's pre-authorization to obtain coverage.
It's a good idea to work with your doctor. Submitting medical records, letters from specialists who have treated you for long-term symptoms and in some cases photos can all lend support for the medical necessity of the procedure and increase your chances of gaining approval.
• Pre-approval may not be enough. Breast reduction surgery such as what Wichinsky plans is a good example of the devil being in the details.
Most insurers dictate how many grams of tissue must be removed from each breast for the procedure to be covered, said Dr. Fardad Forouzanpour, a cosmetic surgeon with the Beverly Hills Cosmetic Surgical Group. Asking in advance what those requirements are can help avoid surprise bills.
• You can appeal insurer decisions. Don't be deterred if your insurer initially denies coverage. "I frequently have to appeal the claim … to obtain insurance coverage," said Dr. Michael Will, spokesperson for the American Academy of Cosmetic Surgery.
If your request for coverage is denied, you have the right to appeal with your insurer as a first step, and initiate an external review by an independent third party if your first appeal is denied.
In California, people with HMO coverage can also file a complaint with the California Department of Managed Health Care. Those with PPO coverage typically should call the Department of Insurance.
Wichinsky said it would be nice if her insurer covered the cost of her surgery, but she feels fortunate that she can afford it. "At this point I don't care. I'm just ready."
From Los Angeles Times