Treating Cellulite with Cellulaze™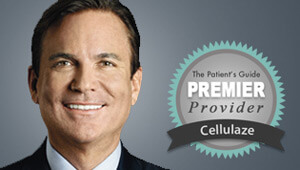 "Many of my patients for Cellulaze ask Melissa for herthoughts on her treatment and inevitably Melissa will breakinto tears. These are happy, not sad, tears. She is so happywith the result that it's actually changed her life."
Understanding Cellulite
Cellulite is a condition that occurs in approximately 85 percent of women. It's not typically found in men. Usually it occurs sometime after adolescence. We believe that it is mediated by estrogen. In fact, without estrogen, we feel that cellulite cannot be present. Now there are some men who have estrogen for various reasons and occasionally you will see cellulite in men as a result. But we know that being female puts you at risk for cellulite. Another misconception about cellulite is that somehow it's related to obesity. In fact, just as many thin people have cellulite as heavy people. So we know it's genetic and we also know it's mediated by estrogen and one needs to be a female to have it.
Impacting Quality of Life
Another consequence of cellulite is that while 85 percent of women have cellulite, it's been estimated that 87 percent of women with cellulite will alter their clothing selection and adjust their clothing in attempt to camouflage or hide cellulite. So not only is it pervasive and common, but it also has huge impact on quality of life.
Old Treatments
Many things have been tried to get rid of cellulite. People have tried dieting, various exercises, even rollers and various massages. Lymphatic drainage and various other methods have been tried, with some even resorting to taking pills.
Until now, however, there has not been an effective long-term or permanent solution. Even endermologie, which is moderately effective, is not a long term answer and one needs to keep applying the endermologie rollers over and over and over. It takes 10 to 20 endermologie sessions to see results and then frequent reapplication.
Cellulaze Treatment
Cellulaze is a laser treatment which is unique in that it attacks the actual underlying causes of cellulite. The three components of cellulite are the fat bulges, the dimpling and then finally the thinning of the dermis tissue. In analyzing people with cellulite, you see those three things to a greater or lesser degree in every single person that has it.
Cellulaze has a unique, proprietary side-firing 1440 nanometer laser which actually targets fat cells at a 90 degree angle from the end of the laser tip. This is a unique technology which allows us to target and dissolve bulging fat cells, rigid fibrous septae which cause dimpling and, finally, the underlying dermis to thicken the skin. In this way we are able to target all three causes of cellulite and achieve excellent results.
One great aspect of the treatment is that one does not have to go to sleep. There is no need for general anesthesia, one can come in and have the entire treatment under local anesthesia or local and oral sedation. The whole procedure can take about 3 hours and you're up and able to drive home.
Long-Lasting Results
We've seen very effective treatment of cellulite and very long term results with this procedure. 9 out 10 of my patients who've had Cellulaze say they are now able to wear clothing they otherwise would not have worn. To me, that really tells of lasting results.
We've tracked the results from patients we've seen and now our earlier cases are over four years out with no recurrence. So we are now able to say "long term to permanent" reduction of cellulite with Cellulaze.
One Patient's Story: My Office Supervisor
My first patient for Cellulaze was the supervisor of my front office staff, Melissa. Like many women, Melissa felt insecure about her cellulite. It affected the clothes she chose in the morning and impacted her overall self-confidence. Today Melissa's legs are as smooth as glass. Many of my patients for Cellulaze ask Melissa for her thoughts on her treatment and inevitably Melissa will break into tears. These are happy, not sad, tears. She is so happy with the result that it's actually changed her life. She can wear shorts again, a bikini. Her life has taken a real turn for the better, in a way I would not have considered prior to performing this procedure.
Not every woman treated with Cellulaze will have an outcome as good as Melissa's. Like any cosmetic procedure, some patients for Cellulaze have a better outcome than others. Overall, there is an improvement in tone and texture in everyone, with some looking perfectly smooth, like Melissa does.
Who Should Perform Cellulaze?
When considering any cosmetic treatment, including Cellulaze, it's important to see a physician who is knowledgeable about the science involved and understands the treatment. You need to see someone who is ethical and will stand behind their work, and who will do so at a reasonable price.
You should seek out a plastic surgeon or dermatologist who is familiar with laser medicine, someone who has extensive experience in this procedure. Ask how many times the physician has performed it. If possible, ask to speak to staffers who've had it done. In my office we have a number of staff members who are extremely happy to show off their results, some even pulling up their pant legs and showing off their results.
Ask about photography, look at before and after photos. One thing to note about photographs, however, is that good or bad lightening can often make them look better or worse.
From The Patient's Guide By Dr. Grant Stevens