Get Rid of Cellulite for Good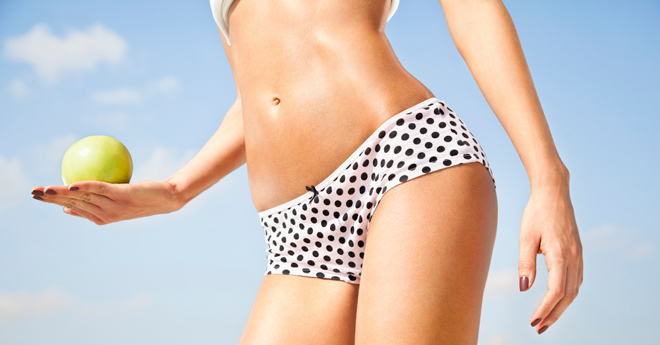 Get Rid of Cellulite for Good: 9 Things You Need to Know
The only way to make a noticeable difference in how severe your cellulite looks is by addressing each and every cause of it. "We can't totally eliminate cellulite forever, but we can soften and improve it," says plastic surgeon M. Bradley Calobrace, MD.
1. Stay Hydrated
Why you need to do it: The better hydrated the body, the plumper the skin cells are, which can help diffuse the look of cellulite and make skin look and feel smoother. Keeping the body hydrated with water will also help move toxins out of the body.
How to do it: Drink plenty of water—the best way to keep the body hydrated from an internal standpoint. Intense body moisturizers can also help on the surface of the skin.
2. Rev Up Circulation
Why you need to do it: Both blood and lymphatic circulation need to function properly, otherwise the rate at which clean blood is returned to the body is decreased and toxins will be stored for longer periods of time. Your cardiovascular system helps keep blood circulation healthy and regular; your lymphatic system keeps lymph fluids in check and flushes toxins out of the body. Unlike the cardiovascular system, the lymphatic system is stimulated by gravity, muscle contractions through exercise, hot and cold temperatures and lymphatic drainage and massage.
How to do it: Exercise frequently to increase blood circulation; healthy eating, dry brushing and massage rev up lymph circulation.
3. Stimulate Collagen
Why you need to do it: As the skin ages it loses collagen, becoming saggy and lax. Once this happens, fat that bulges through the septa can become even more obvious.
How to do it: The most cost-effective way to increase collagen production is with a topical retinoid, be it an over-the-counter lotion or cream that contains retinol or the more powerful retinoid version found in prescription-strength products. In-office treatments that heat up the collagen fibers by delivering heat to the lower level of the skin (the dermis) are more powerful and will provide more dramatic results. "By stimulating collagen, the skin becomes thicker and there's less of an ability for fat cells to bulge through the fibrous bands," says Boca Raton, FL, plastic surgeon Jason Pozner, MD.
4. Break Up the Fibrous Bands
Why you need to do it: The only way to destroy the fibrous bands that are responsible for causing cellulite is by either having them surgically cut or stretched out with a professionally-administered treatment device.
5. Liposuction is not the answer
Nearly every plastic surgeon we spoke to for this story commented on how many women ask for liposuction to treat cellulite. Liposuction removes fat, not the fibrous bands that are components of cellulite. Also, liposuction targets deep fat and cellulite is a superficial problem. Laser liposuction can help tighten skin and reduce fat, but it may not work for everyone. "Liposuction is not the surgery to improve cellulite. In some cases it can actually make it worse," says Las Vegas plastic surgeon Terrence B. Higgins, MD.
6. LPG Endermologie
LPG Endermologie stretches and gently rolls and lifts the skin to produce collagen, stimulate the lymphatic system and break up fatty deposits. "LPG Endermologie is often performed when treating cellulite," says Dr. Higgins. "One study showed improvement in approximately 28 percent of patients who were treated. Theoretically, a temporary improvement can be gained by stretching the fibrous septa."
Cost: $150
Length of treatment: 45 minutes
7. Cellulaze
Cellulaze surgically treats bulging fat, fibrous bands under the skin and surface irregularities. An incision is made (about two millimeters wide) and a laser, "Dissolves fat in the high spots and cuts through the bands, releasing them," says Marina del Rey, CA, plastic surgeon Grant Stevens, MD. "The dermis is heated to stimulate collagen." The fibrous bands may regenerate but most doctors don't see this as a concern. Expect to be swollen and bruised for a few weeks; full results won't be seen for four to five months when the skin smooths out. As of press time, results are lasting up to three years with no significant recurrence of cellulite.
Starting cost: $5,000-$7,000
Length of treatment: 60-90 minutes
8. SmoothShapes
SmoothShapes improves the look of cellulite, without incisions, by delivering light, laser, vacuum and massage. Like other cellulite treatments, a series of sessions — eight 10 minute treatments (two per week for four weeks) — and regular maintenance are required. "SmoothShapes doesn't get to the underlying cause of cellulite and it won't stay away forever — that's the downside to this." says Dr. Stevens.
Cost: $1,600 for eight treatments
Length of treatment: 10 minutes
9. VelaShape
Making use of radio-frequency energy, infrared light, vacuum and massage, VelaShape works to smooth out unsightly lumps and bumps associated with cellulite. It stimulates the lymphatic system to promote proper drainage and works to reduce the size of fat cells. According to the company, a minimum of four sessions are needed to make a difference in skin texture. In order to maintain the results, you will need to keep up with the treatments.
Cost: $1,000 for four treatments
Length of treatment: 20-30 minutes
To find out more about getting rid of Cellulite for Good, contact our office by calling 877 298 9915