Millionaire Matchmaker Joins In Celebrating Marina Plastic Surgery's 25th Anniversary
The 25th anniversary of Marina Plastic Surgery took place as a soiree not to be easily forgotten: "Girls Night Out" featured live demonstrations, in-depth looks into surgical and noninvasive procedures and a special guest appearance by Millionaire Matchmaker, Patti Stanger!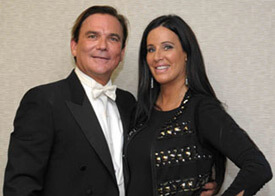 Dr. Grant Stevens of Marina Plastic Surgery with Millionaire Matchmaker Patti Stanger
Nearly 700 patients, friends and guests attended Marina Plastic Surgery's 25th anniversary celebration, "Girls Night Out" this year. The big bash was held in the opulent offices of Marina Plastic Surgery and was hosted by founder and Medical Director Dr. Grant Stevens, one of the leading board certified plastic surgeons in Southern California. Specializing in a wide range of procedures, from transformative surgeries to cutting edge non-surgical treatments, Dr. Stevens has been nominated for the prestigious title of America's Best Physicians in "The Guide To Top Doctors" by his peers.
Dr. Stevens, joined by Director Charlie Sheridan and special guest star, Millionaire Matchmaker Patti Stanger welcomed a myriad of guests from near and far, including American Health and Beauty's editor in chief, Keith Veseleny. Featuring pink and black feathers, sparkling decorations, and disco balls, "Girls Night Out" was an affair to remember. Guests were greeted by Chippendale studs and showered with pink goody bags, delicious sweet confections, excellent food and drinks.
The evening's highlights included a makeup salon area where guests could be made-over with mineral makeup, a Tarot card reader and a jewelry station where sparkling baubles could be purchased at a discounted price. Another main draw of the evening were the live demonstrations of non-invasive treatments such as Thermage, CoolSculpting, BOTOX and included new exciting lasers such as fat reduction device Exilis. While the live demonstrations were of a non-invasive nature, the event also focused on the rejuvenating results of plastic surgery.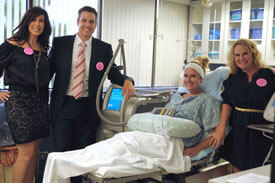 "Girls Night Out" Live Demonstrations
"We were extremely impressed with the sheer magnitude of 'Girls Night Out' and the wide scope of procedures offered by Dr. Stevens, from surgical to the newest technology available in aesthetic medicine today," says Mr. Veseleny, "The meticulous planning for the event was evident at every turn of the evening, including the informative live demonstrations, which were a huge hit with the attendees."
Of the nearly 700 attendees, many were previous patients of Dr. Stevens from years back. "What a night!" Dr. Stevens said. "So many patients came back to celebrate with us and many shared their experiences. We are blessed to have such a great following, and I was thrilled to be able to chat with patients who came to celebrate five, 10 and even 25 years later."
Prizes and discount coupons were given away to many lucky guests and the crowd did not comprise of only female patients either. In a previous article regarding the rise of male cosmetic surgery, Dr. Stevens stated, "We have seen an explosive increase in male plastic surgery and cosmetic plastic surgery." And there were many male patients present who were not shy about showing off their new physiques: more defined abs and smaller stomachs from procedures such as liposuction and nonsurgical treatments such as CoolSculpting.
With the guests having such fun and reveling in a setting of cosmetic treatments, Dr. Stevens paused for a moment to speculate on what the future had in store for cosmetic treatments. "I am looking forward to the next 25 years. Plastic surgery is just exploding with new non-invasive procedures and exciting surgical techniques," Dr. Stevens said. "Can you imagine what kind of 'Star Wars' lasers will be in our future?"