Dr. Grant Stevens Honored with Just Like My Child Foundation's 2014 Humanitarian Award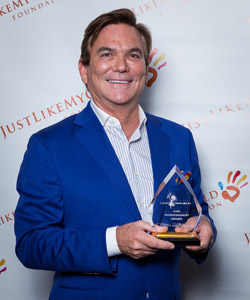 Marina del Rey, CA – October 29, 2014 -- Grant Stevens, M.D., FACS, a board certified plastic surgeon and founder of Marina Plastic Surgery in Marina del Rey, CA, is the 2014 recipient of the Just Like My Child Foundation's Humanitarian Award. The Foundation's mission is to empower vulnerable adolescent girls by enabling them to create healthy, self-sustaining families who prosper without further aid.
"It's my honor and privilege to receive such an important award," said Dr. Stevens. "The Foundation's work has already empowered more than 200,000 girls in 76 communities in Uganda, East Africa, and 1,500 additional children in two communities in Senegal, West Africa."
The award was presented to Dr. Stevens by Just Like My Child Founder Vivian Glyck and her husband Mike Koenigs, who said in part, "When Vivian petitioned Dr. Stevens to help support a small clinic he said yes and has written a check every month for the past seven years. Dr. Stevens has helped build this small clinic into a nationally recognized, flourishing teaching hospital in Uganda with a fully operational surgical center, five doctors, three ambulances and investments from major organizations such as the Clinton Foundation and Catholic Relief Services."
Koenigs added that Dr. Stevens has helped save more than 5,000 mothers in childbirth so that no more orphans are born at the hospital and provided AIDS and malaria protection and treatment to thousands of parents and children. "Dr. Stevens has ignited the dreams of dozens of health care workers on the ground who are now pursuing advanced education and whose dreams to serve others are coming true," Koenigs said.
For more information on the foundation or to donate, visit Just Like My Child Foundation.
About Dr. Stevens
Dr. Stevens is the founder and medical director of Marina Plastic Surgery in Marina del Rey, California. He is also the Chairman of the USC-Marina Aesthetic Surgery Fellowship and the Director of the USC Division of Aesthetic Surgery. He is a Clinical Professor of Surgery at the USC Keck School of Medicine, Division of Plastic Surgery. He is a board certified Diplomate of the American Board of Plastic Surgery, a Fellow of the American College of Surgeons and the International College of Surgeons. Dr. Stevens is also on the Board of Directors of the American Society of Aesthetic Plastic Surgery where he serves as secretary and also serves on the board of the International Society of Aesthetic Plastic Surgeons where he is third vice president.
For more information, visit Marina Plastic Surgery; like Marina Plastic Surgery on Facebook; and follow on Twitter @DrGrantStevens.