Beverly Hills: Building on Beauty Since the Beginning Ch 5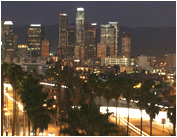 Part 5 of a look at trends and fad in Beverly Hills plastic surgery. By Kitty Monroe.
When it comes to beauty fads, Beverly Hills has spawned some pretty heinous pop-culture no-no's like spandex, the mullet and the Beverly Hills diet that had many people eating hordes of fruit and spending more time running to the bathroom than running errands. But Beverly Hills is also responsible for some of the healthist crazes to sweep the country. The fitness craze of the 1980's started in the health clubs of Beverly Hills and on the beaches of Southern California. Once America saw the slim, sleek, beautiful people out west, they couldn't wait to join the gym, grab a smoothie and get their running shoes on.
No one knows the trends and fads of Beverly Hills better than Dr. Grant Stevens. As a highly respected plastic surgeon who lives in Beverly Hills, Dr. Stevens sees everything from the seeds of a stunning new idea in fashion to the utterly rediculous notion of matching poodle coifs (matching with the poodle's owner of course). Thank goodness hair styles grow out and an impeccably made dress will last for decades; but when it comes to plastic surgery how can you tell a fad from a trend? And how can you turn a trend into a classic look that will last a lifetime?
You don't want to be frivolous when it comes to plastic surgery. Especially when you are choosing a surgeon. Seeing a great ad online or in a newspaper or watching a news segment on television about a great new doctor and a great new surgery can be very intoxicating, but don't let hype take the place of solid research and practical decision making. Finding a surgeon certified by the American Board of Plastic Surgery is far more important than finding a plastic surgeon with a Beverly Hills address.
Television shows like Nip/Tuck and reality shows like Dr. 90201 or The Swan really glamorize plastic surgery. It seems like you can pick one star's nose and another's breasts, liposuction your abs and thighs and presto - a whole new you. But there is an aspect to plastic surgery that the hype seems to miss - your face and body will continue to age. If you and your plastic surgeon don't take that into consideration, you may look great today and worse years from now.
Imagine what you would think of your hair stylist if your mullet never grew out? When it comes to plastic surgery, try and think in those terms - reminding yourself, of course, that your hair will still go grey. If you're considering a facelift, make sure you take into consideration that after you turn the clock back ten years, it continues to tick forward again.
"A good plastic surgeon will look at a patient's bones structure, body mass, fitness level, nutrition awareness and lifestyle choices to determine how the patient will age and how well they will take care of themselves after surgery," explains Dr. Stevens. "If a woman has breast augmentation and doesn't consider a breast lift, especially after child bearing, then chances are she's going to look fantastic for about 3 years, but when her breasts start to sag, she's going to look worse for a lot longer."
Like many visionaries, Dr. Stevens looks further down the road than most. He considers how his work will stand the test of time rather than just the test of 'right now.' To that end, Dr. Stevens has innovated and continually improved upon the Stevens Laser Bra. The laser bra uses a woman's own tissue to create an internal bra that supports a woman's breasts to retain a perky, more beautiful shape over many, many years.
Classic beauty is timeless. It is achieved when your body and your features are proportional and well balanced. If you are considering plastic surgery, stay away from the fads and trends and look at the long term effects of what you're considering. Aim for the look that's right for you.