Beverly Hills: Building on Beauty Since the Beginning Ch 1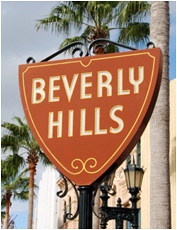 A look at why, to people who are considering plastic surgery, Beverly Hills raises the bar. By Kitty Monroe.
Chapter 1 - Beauty Since the Beginning
It's not a coincidence that the beauty capital of the world is Beverly Hills - you could even say it is in the natural order of things. From the beginning of time, the canyons and hills were blessed with a commodity more precious than money or beauty or fame, Beverly Hills was blessed with water which flowed from the hilltops and through the canyons wending its way to a place aptly called, El Rodeo de las Aguas (The Gathering of the Waters). This sacred landscape was fertile and opulent even before Rolls Royces and Paris Hilton graced Rodeo Drive.
The Beverly Hills you see today was built on the natural resources of that distant landscape-from the lush, tree lined streets to the beautiful mansions and ranches along the hillsides. The great architects and landscapers who started this enclave knew exactly how to use the raw materials to create a more beautifully manicured city.
The use of existing raw materials is the hallmark of any successful beautification project. Just as the architects and landscapers of this beautiful city used the natural landscape, Beverly Hills plastic surgeons use your existing bone structure and physical attributes to enhance your personal appearance.
In Beverly Hills, breast augmentation, liposuction and many facial enhancements are combined to create a complete plastic surgery make-over. And the key to any successful plastic surgery is enhancing your existing features. "There is a new trend in plastic surgery that has patients picking facial features and body parts out of movie magazines the way we pick fruit at a supermarket," explains Dr. Grant Stevens, an award winning plastic surgeon from Marina Plastic Surgery. "A good plastic surgeon will examine you carefully and plan ways to enhance your features, not try to change you into a completely different person."
The trend Dr. Stevens speaks of is a kind of starlet Frankenstein-ing that is all the rage in China, Europe and South America. Women in China are going to great lengths to get Angelina Jolie's lips, Nicole Kidman's nose and Americanized eyes of any sort. The women of Brazil are getting breast augmentations to look like super model Gisele Bundchen whose cleavage has sparked a national rage for breast augmentation surgery.
It is interesting to note that the further you get from Beverly Hills, the more demand there is to add on features to look like the people who live there. While in the city of Beverly Hills, liposuction is the most popular plastic surgery procedure. Which might mean that even the beautiful people need a little outside help.