Beverly Hills: Building on Beauty Since the Beginning Ch 8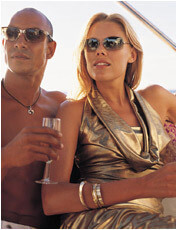 Part 8 of a look at the allure of plastic surgery, Beverly Hills and celebrities. By Kitty Monroe.
Chapter 5 - Being Beverly Hills Confident: You Know You Want It
You don't have to live in Beverly Hills to see beautiful people on the street every day. They have an attitude about them, and they like being looked at. They don't sweat or blush; they glow and glide past your field of vision almost demanding that you notice them, and they never notice you. What makes them - them and you - you? Confidence - pure and simple.
Confidence works as a state of mind that enhances your state of being. You've experienced it at least once in your life. It's that spark you feel when you wear something that makes you feel great or makes you move differently, and suddenly people notice you. The better you feel about yourself, the more sociable you become. The difference is that when you change your clothes, your self assurance goes in the hamper with that special frock.
When we see snapshots of Reese Witherspoon and Gwen Stefani walking through Beverly Hills on a Sunday morning with their dogs or strollers in sweats with their hair tied back, they still seem to have that confidence because their self assurance doesn't come off with make-up remover.
Many people look to plastic surgery to create the self-assurance super models, actresses and music divas were born with, and there is some justification for the surgical option. If DNA is the cause of beautiful features that you're either born with or without, isn't having a surgical enhancement just a way of leveling the playing field?
We tend to think nothing of the rich and famous of Beverly Hills having liposuction, so why would we not want the same possibility for beauty ourselves? In Beverly Hills, breast augmentation isn't an extravagance, it's an opportunity - and today breast augmentation, liposuction and many other plastic surgery opportunities are available to most everyone.
Plastic surgery is often thought of as merely an excessive exercise in vanity, and plastic surgery is associated with Beverly Hills because of this town's obsession with everything and anything excessive. But if you look more closely, the link between Beverly Hills and plastic surgery has more to do with assurance than with excess.
Imagine walking into a job interview or your board room, going out on the town or to an amazing party, or just walking down the street or going shopping at the mall knowing that you look fantastic. Imagine speaking in public, knowing all eyes are on you, without ever feeling flawed or self conscious. When people are in public, and it is their job to be seen, being confident isn't excessive, it is necessary. And in our competitive society, confidence is the gateway to success.