Beverly Hills: Building on Beauty Since the Beginning Ch 6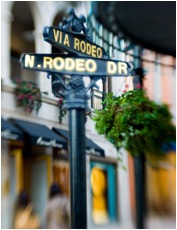 Part 6 of a look at Beverly Hills plastic surgery in the rest of the country. By Kitty Monroe.
Chapter 4 - Uncommon Beauties Are Setting the Standard for Common Beauty Mistakes
In China, Australia, Sweden and Brazil the world media is making much of the new craze in plastic surgery: Angelina Jolie. Women in China want eyes like hers, European women want her cheekbones and everyone, including a few men, wants those unbelievably voluptuous lips. Exotic beauty is 'in' these days, and it's spawning extreme makeovers from Beverly Hills to Beijing and extreme errors in judgment.
If you're like most women, you don't wear haute couture - mostly because you can't afford it. But even if you could take a trip to Beverly Hills and hit Rodeo drive to meet with Armani so he could drape you in a made-to-order designer gown - where would you wear it? Unless you're planning on attending the world renowned film festival in Cannes, you'd have a very expensive gown that would make you look more like a clown than a star in your neck of woods.
The starlets and divas of Hollywood and Beverly Hills live in a world that requires them to look exotic, but if you take their look out of that world, they would just look freakish. That's why Cindy Crawford looks more like a soccer mom now than a super-model on the catwalk. Consider this when you consider plastic surgery because looking exotic may not be the right look for a board meeting or shopping or picking the kids up from school.
Going to a Beverly Hills plastic surgeon isn't like going to the Beverly Center to buy an extravagant outfit. Plastic surgery isn't like clothes and shoe shopping. You can't choose mix and match patterns off the rack then just accessorize tastefully because you can't take off a surgical enhancement when you are done with it. A Beverly Hills breast augmentation requires a permanent physical change to your body - even if you choose to have your breast implants removed at a later date.
Jessica Alba doesn't need Jolie's lips, and Jennifer Aniston doesn't need Halle Berry's cheekbones. In fact, if you took the most beautiful women in the world and switched their worst feature with the best feature of another beauty, you'd end up with a bizarre Frankenstein instead of a more stunning beauty.
When it comes to beauty, your overall look is greater than the sum of its parts. Look at Jolie's lips when her mouth is closed without the rest of her face, and they are almost grotesque. Now, find a picture of those lips curling into that stunning smile of hers and the proportional perfections of her lips and teeth are breathtaking. For the thousands of women getting lip injections and lip augmentations, very few of them have the teeth and mouth structure to sustain those lips.
Each feature of your face and your body exists in relationship to every other feature of your face and your body. Enhancing your cheekbones to look like Jennifer Lopez may sound like a great idea, but if you don't have a strong jaw line and a prominent chin, you may end up looking like one of the aliens commonly associated with area 51.