Beverly Hills: Building on Beauty Since the Beginning Ch 4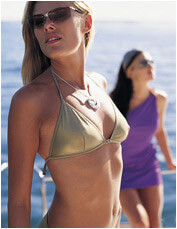 Part 4 of a look cosmetic enhancements and trends in plastic surgery in Beverly Hills. By Kitty Monroe.
With new technologies, non-surgical and non-invasive treatments are becoming all the rage for everyone. BOTOX Cosmetic has broken every beauty barrier there is and is the most popular non-surgical cosmetic enhancement in every demographic. And with advances in Laser treatments, like Thermage and laser hair removal, these technologies are absolutely safe and effective on all skin types, skin tones and hair colors.
If you think plastic surgery is a phenomenon confined to older, wealthy, female Americans, it might be helpful to know that Brazil has the second highest plastic surgery rate in the world with breast augmentation, liposuction and tummy tucks being their most popular procedures. Mexico has the highest percentage of teenage plastic surgery, almost 29% of all plastic surgery patients in Mexico are teens. And 20% of all plastic surgery patients in Japan, Turkey and Sweden are men.
Plastic surgery isn't the kind of thing you do because everyone else is doing it, but if you've wanted to enhance your beauty and you've felt restricted by a perception that only the rich and famous of Beverly Hills indulge in plastic surgery - think again. Men and women all over the world, from all walks of life, from every creed and social status are embracing cosmetic enhancements as an opportunity to reach their personal goals.
As standards of beauty evolve so do the people that want to achieve the standard. And with a new population embracing their cultural identity and setting the standards of beauty from Beverly Hills to South Africa a new kind of beauty is evolving - a beauty that is about looking unique and defining your own achievable standard.
Chapter 3 - Perfecting the Fads, Cultivating the Trends: How One Beverly Hills Plastic Surgeon Creates Classic Beauty Ahead of its Time
Beverly Hills and Southern California have always been the mecca of fashion, beauty, entertainment and food. From the fine cuisine of Spago to the hair styles of Jose Eber, Beverly Hills has spawned some of the best trend setting styles in the country.
If you don't live in Beverly Hills, your image of this community is probably based on the entertainment industry's portrayal of crazy hairstyles, spoiled teenagers, huge mansions and an 'anything goes' lifestyle of the rich and famous. But many silly fads that start in Beverly Hills become the lifestyle changes that sweep across the globe once everyone else catches on.
When car phones were just a frivolous fancy, the who's-who of Beverly Hills were lining up their Benz's at installation centers around town. It was a fad for the car culture of California that was mocked in Beverly Hills Cop. But as the technology evolved, the trend setters of Beverly Hills saw everyone around the globe getting on their cellular phones and getting on with their busy lives.
Plastic surgery has had a similar evolution in Beverly Hills. Liposuction and breast augmentations used to be the extravagances of the rich and famous. In the beginning, plastic surgery was seen as a fad for the spoiled and the vain and was seriously looked down upon and judged by the general population. Today, complete cosmetic surgery makeovers inspired by Beverly Hills plastic surgeons have captured the attention of men and women across the country.
On the surface, the difference between a fad and a trend is the shelf life of the idea. Having music on your computer has been around as long as the computer itself, creating a device that you can carry with you wherever you go to play that music and the videos that go with them was a trend that was dying to happen. The problem is only time will tell which is a fad and which is a trend. In hindsight we all have 20/20 vision but being able to tell up front is the key.